Get the most of your workstation with two ultra-high-def monitors. Plug them in with the USB-C Universal DV4K Docking Station with Power, which is Thunderbolt™ 3 compatible and supports both DisplayPort™ and HDMI. It'll help keep your laptop, and your productivity, humming all day long as it delivers integrated power and charging for most USB-C laptops up to 60W.
With four USB 3.0 ports (including one that's high-powered for charging devices), plus an Audio In/Out port for speakers, mics, or earphones, it's easy to customize your workstation. Best yet, the dock will help save real estate on your desk, with a wedge design meant to prop up your laptop. This dock combines power with productivity in a compact size.
Dual Display
Boost productivity by adding up to two monitors to your workstation. With two, or even three displays (if you include your laptop screen), connected to your docking station, it's faster and easier to switch between your spreadsheet and email or compare documents side-by-side.
Supports Dual DisplayPortT and HDMI Monitors
Access the latest display technology with two DisplayPort ports that support dual DisplayPort monitors, dual HDMI monitors, or a mix of the two. Create a high-performance dual monitor workstation with crisp, clear images at resolutions up to 4096 x 2160 p60 24bpp color.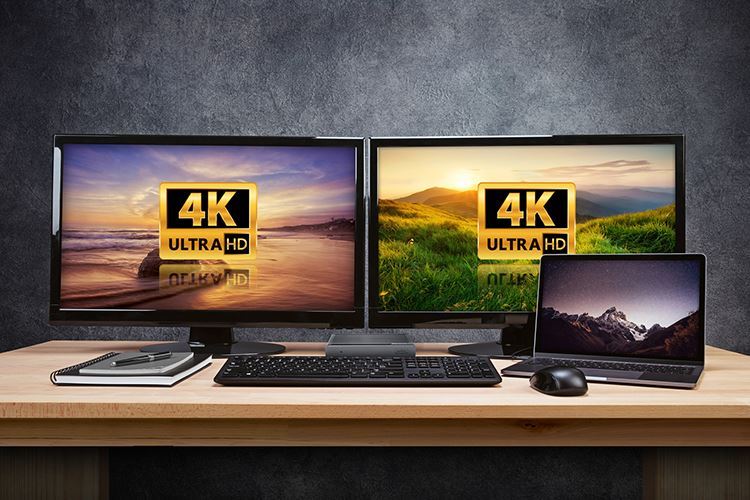 Innovative Design
A compact industrial design with metallic details make this dock a sure fit for shrinking desktops and tight spaces. Elements like stacked ports add functionality in a reduced footprint. The raised grooves on the non-slip, angled top surface create a comfortable typing angle for the laptop while offering passive cooling.
All About the Ports
Four USB 3.0 ports make it simple to add the latest keyboards, exterior drives, and other peripherals to customize the workspace experience. The dock also includes a powered USB 3.0 port for charging your smartphone, tablet, or other devices.
What's in the Box
Dock
USB-C to USB-A Adapter (10cm), Black (part #ACC1104GLX)
USB C/M to C/M Cable, 5Gbps, 1.8M, Black (part #511-0480-001A)
AC Cable Cord, 3pins, 1.8M, Black (part #511-0309-001B)
Adapter, AC to DC, 19.5V, 6.15A (part #800-0397-102A)
Enterprise Software Suite: A Targus Exclusive
Enhance security and improve user experience with the Targus Enterprise Software Suite for DOCK180USZ.
Wi-Fi Auto Switch: auto enables/disables Wi-Fi functionality when the dock's Ethernet connection is active, reducing unnecessary network traffic and enabling faster connection speeds.
MAC Address Cloning: auto replaces the MAC address of the connected Targus Ethernet network adapter with any (Wired Ethernet, Wireless Ethernet, Bluetooth) MAC address of the local host, supporting device-based authentication methods.